Efficiency, quality
and always in control
We own our factory and are proud to control our production process, because it means we can maintain a tight focus and a productive attitude towards efficiency, quality and the endurance of our products.
The human touch
Instead of relying on automated machines or computers, our products are made by people, meaning we can flex to meet any situation or requirement. Our factory has many stations where tasks are carried out by hand using specialist machines, and where each product receives the specific attention it needs.
This human aspect of our production is in everything; from the way we craft different sizes of the same product completely differently, to the handling and double-checking of every item many times. Each piece is examined for perfection at every point along its hand production, as well as being extensively inspected at the final step of its assembly. In this way, quality control of everything we make is the responsibility of everyone involved in the making.
The LEAN approach
We want our production to be swift and lean, because we know the value of short lead times – yet we're mindful always of achieving precision as well as speed, because we never want to make mistakes.
Being lean in our production is also about minimising waste and consumption, because our credentials in sustainability are incredibly important to us. Overall, our approach is one of constant tweaking in order to achieve and maintain the perfect balance between all these aspects.
Hand crafted by
dedicated specialists
Though many d line products can be classed as industrial in both their design and their look, none of them are industrially made. They are hand crafted in our factory by our dedicated specialists.
Tube cutting, welding, bending, grinding, polishing, assembly and packing – all of these stages of our production are undertaken by people, with the help of specialized machines, and each is carried out by one person before being passed on to the next.
These tasks are truly specialized. To achieve each tiny detail in a d line product, for example, special stamping and cutting tools have been developed just to create that single element. Meanwhile, to execute the grinding and polishing that results in our signature d line satin finish, a product is gently held by hand against a spinning wheel at specific angles and with equal pressure applied to every millimetre of the whole. This is carried out as four different steps before the product is wrapped for transportation to the next station.
Labour-intensive processes such as these are critical for the achievement of precision and perfection. We think they're worth it because the resulting products are truly enduring.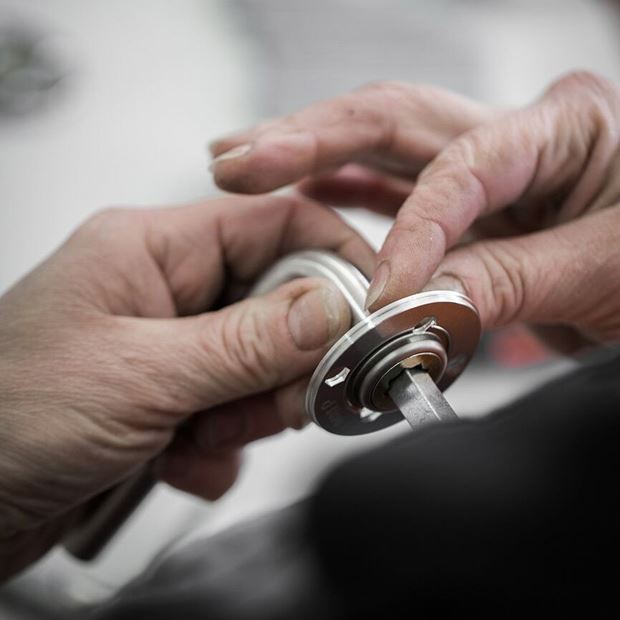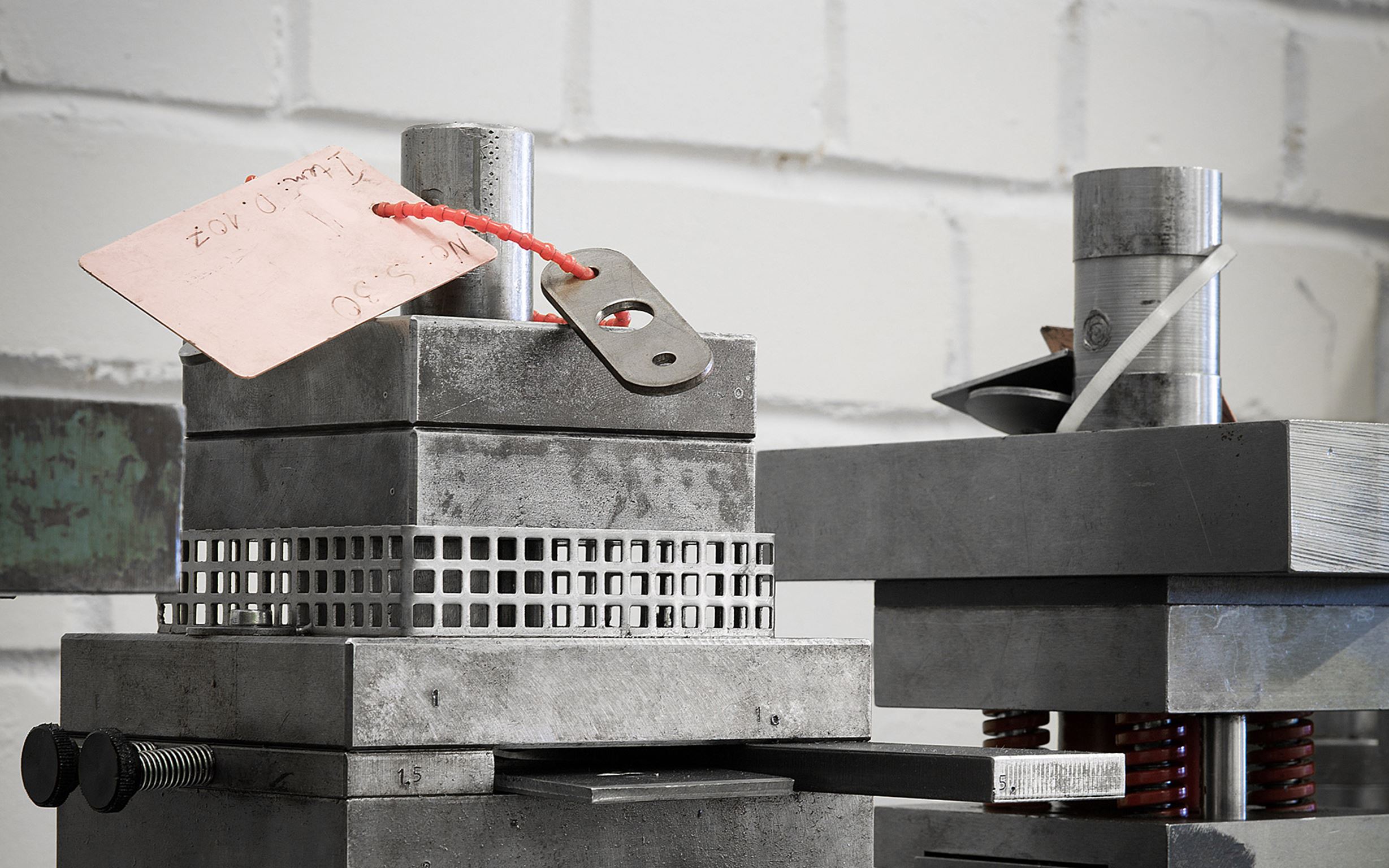 Designs that stand 
the test of time
We place enormous value on our products' reputation for standing the test of time, because we believe that anything that's less than superb in its design and craftsmanship is simply a waste – not just of money but also of resources.
20-year guarantee
Long before sustainability became an issue of concern, d line made a promise that we would create things that are timeless in their design and enduring in their strength, so that they wouldn't need to be bought for a purpose more than once. It was based on unfussy, minimalist design that would never date. And it was based on the use of raw, resilient, acid-proof, non-corrosive AISI 316, as the strongest, most hard wearing steel for these types of purposes.
Today that commitment to sustainability exists as a 20-year guarantee on our products (with the exception of electronic parts). This commitment extends to responsible sourcing of our steel, to low-emission hand assembly and to a lean factory that never produces more than what is needed.
Sourcing, processing and recycling
How d line acquires our steel has been carefully thought through, from sourcing to processing, right through to scraps.
Our steel is milled in Germany and bought through the mill's subsidiary in Lithuania. We have chosen this mill as our source because it has the highest quality standards and is the closest location we could find to our production facility, meaning we can minimise and manage transport emissions.
Between 50 and 70 per cent of the steel in d line products is recycled. We buy only for the need we have, and to keep just enough in reserve to react quickly if an urgent order comes in. This is not only because we don't want to be responsible for mining and producing steel that's not needed, it's also to avoid the emissions that powering a large-scale storage facility demands.
Our waste minimisation goals include a keen focus on getting our production absolutely perfect each time. This focus means that these types of scraps only account for about 0.3 per cent or our entire production – and we're working to reduce even this small number all the time.
When we have used the steel for the purpose we bought it for, we ensure nothing is thrown away. Our scraps are carefully sorted, before being either sold locally or sent back to Germany to be melted down at the mill. We then buy back as much of the material created from that melting process as we can, as a way to repurpose, reuse and avoid unnecessary waste.